Mobile App is essential to the success of any Social Network. YouNet Mobile Application for phpFox V4 based site is another perfect answer to this need. It does not only bring the better way for your users to experience your site but also make your site more professional.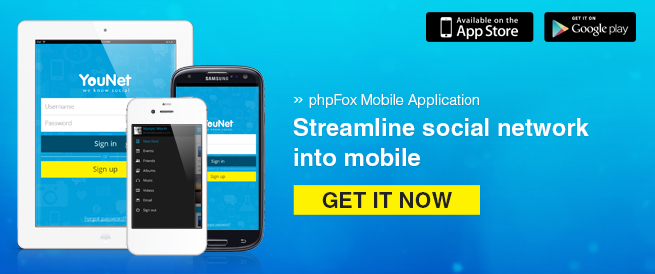 Demo
Native Features

For details of features supported on mobile app, please refer to this
page
(under Feature Listing tab).
Gorgeous Layout
A friendly interface with smooth navigation: larger buttons and inputs, easy navigation and awesome animation effects, stunning design and unique for PHPFox based site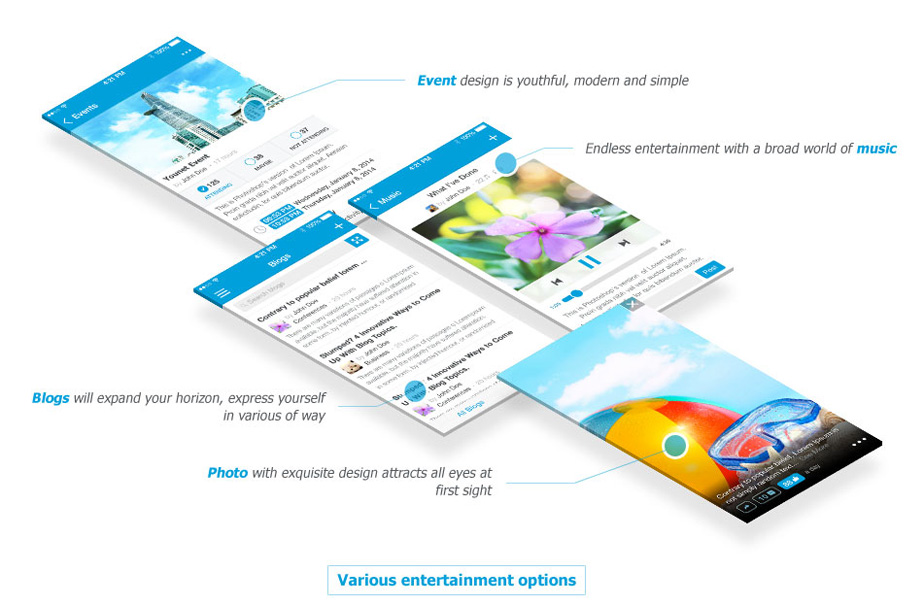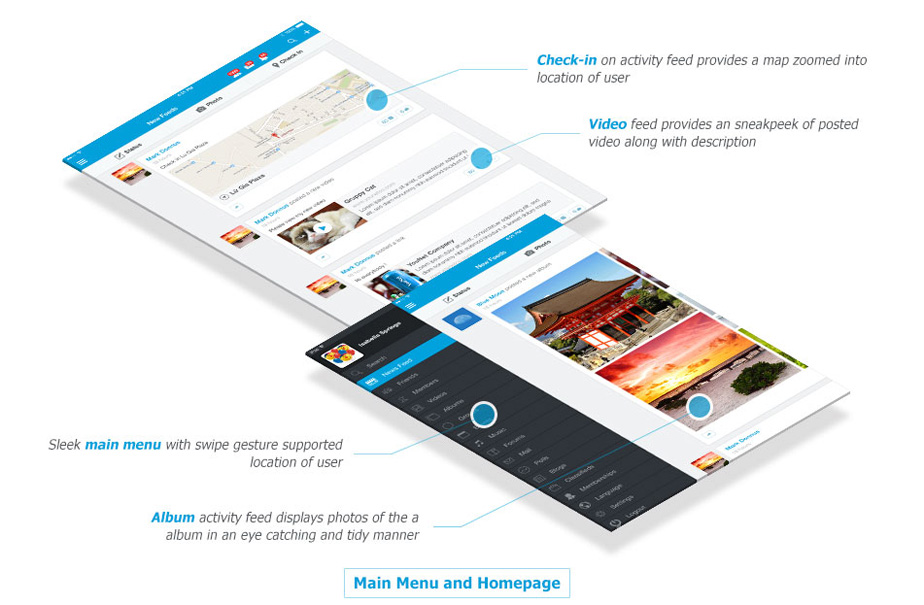 Pricing Models

Note that the prices are already included 1st Setup Fee. In order to purchase our other pricing models, please feel free to
contact us
.
Monthly Subscription
We do understand the fact that many of you would like to try our Mobile Solution in advance in order to make sure you make the right investment into our mobile app. Small monthly payment not only help you to slip the bill but also encourage us to keep going on improving our product.
The monthly payment is $69 – Setup Fee and Splash Login Integration is not included.
In order to purchase Monthly Subscription of Mobile App, please go to this
page
Guideline to build application
Purchase the Mobile App on phpFox Store
Enroll into the Apple Developer and/or Android Developer Program
Submit ticket and send us the required information stated at Mobile Application Build Requirements in our Client Area
We set up on server side and build your application to files in apk (Android) and ipa (iOS) formats.
Product Info
Version: 4.07
phpFox Compatibility: 4.5.x
Notice
Mobile app will be built with default template, color, icon and all phases just as our demo mobile app.
Only icon on landing page is changeable and will be changed once.
Lifetime FREE upgrading to latest released versions, but re-build fee and migration fee (if there are any custom works) may be applied.
Layout and Function will be exactly the same to our demo application. Some configurations are available such as main color, menu items, etc.
The price is also included 1st Setup Fee. For any build application request after the first one is released, extra fee will be charged:
We only build mobile app once all required info is provided. Follow this article for more detail.
For Term of Service, kindly read carefully at: http://phpfox.younetco.com/product-support-refund
Please feel free to contact us if you have any questions about our mobile apps. We will reply to you very soon then.