ATTENTION!!! For Russian users. Before purchasing verify on the system ROBOKASSA
ENGLISH DESCRIPTION: ROBOKASSA — is a service allowing Customers (Sellers/online shops, service providers) to accept payments from Users (customers) with:
Bank cards, in any e-currency services of mobile Commerce (MTS, MegaFon, Beeline); payments through the Internet Bank leading Banks of the Russian Federation; payments through ATMs through instant payment terminals;
Installation and configuration: Quick install, after installation you need to upgrade payment systems in the admincp. Select "ROBOKASSA" and specify the MerchantLogin + robokassa Pass1 + robokassa Pass2
More please read https://www.robokassa.ru/ru/Index.aspx
Click Settings Payment Gateways.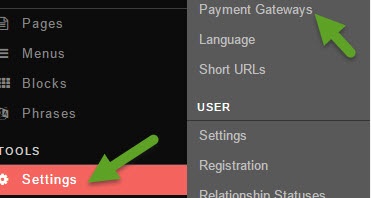 Click on the drop-down option at the left of the gateway, and select "Edit Gateway Settings".
A popup form will come up to fill in as you want.
Name of the Gateway as you want to display it.
Description that your users will see.
Active: Set to Yes to activate this or No to deactivate it.
Test Mode: Set to Yes to test the gateway (by purchasing stuff in the front end to see how the payments are working). Set to No to have it a live gateway.
Enter Your Project Key and the Secret Key
Click Update to finish setting up.
Russian
ВНИМАНИЕ!!! Перед покупкой пройдите проверку в системе ROBOKASSA https://www.robokassa.ru/ru/Index.aspx
ROBOKASSA — это сервис, позволяющий Клиентам (Продавцам/интернет-магазинам, поставщикам услуг) принимать платежи от Пользователей (покупателей) с помощью:
банковских карт, в любой электронной валюте сервисов мобильная коммерция (МТС, Мегафон, Билайн); платежей через интернет-банк ведущих Банков РФ; платежей через банкоматы и через терминалы мгновенной оплаты;